Improve Your Employee Experience
You most likely survey your people once or twice a year as part of your HR process to determine their overall satisfaction levels about working at your company.
You might outsource this to a third party or use yet another piece of software to get this get done.
Feedo has the capability to administer anonymous staff satisfaction surveys for you that creates stunning visual reports that can split out into company departments or company-wide results.
You can ask all different types of questions including asking for ratings and scores, yes and no answers as well as open questions to receive written feedback.
You can also place the questions into topics and roll them up to give an overall score.
Here's a spider graph of overall results for an employee opinion survey. Overall, there were 8 areas measured and 5 questions in each section. The results are rolled up. The results show clearly where the organisation is strong and areas that need some work on.
Easily Create Different Types Of Questions
Your surveys can contain different types of questions
and sections to drill down to exactly what you need
EXAMPLE
Section: My Manager
My manager communicates with me effectively
My manager treats everyone equally in the team
My manager gives me regular feedback on my performance
My manager praises me when I do my job well
My manager cares about my well-being
I have had a one to one meeting with my manager in the last 30 days
My manager is great at…

My manager needs to improve…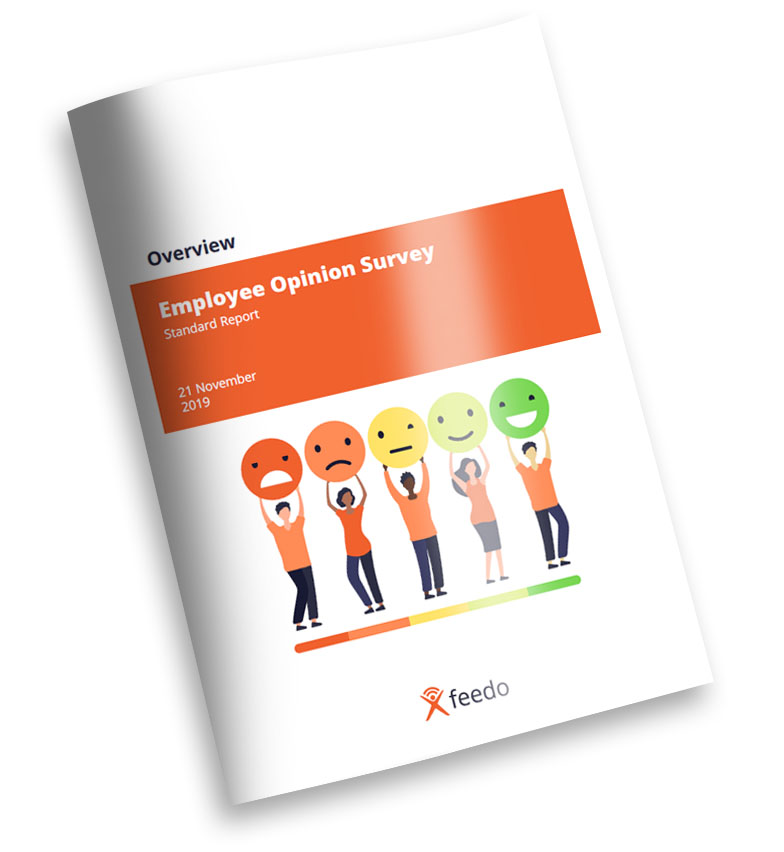 You can access all of the output from your employee opinion surveys on an online dashboard or you can download a formal PDF report.
If you've set up departments or teams you can easily drill down to that level of detail to compare and contrast results between different areas of the business.
All results will be anonymous.
Click below for an example of the output for a simple employee opinion survey that we have created by way of example.
Pre-Loaded Employee Opinion Surveys
There are a number of pre-loaded employee opinion surveys within Feedo that you can use as they are or you can amend them.
Alternatively, you can upload up your own employee surveys to use.
You can create your own using our design wizard or you can upload a spreadsheet with the questions on and Feedo will do the rest.
You can create employee surveys in minutes.

It's Not Just Employee Surveys. You Can Get All Of This…
Feedo is a subscription based system. You can choose as many modules as you need.
No report fees and no separate systems. Self managed or we can fully manage.

360 Degree Feedback
Gather feedback for your leaders from
their line manager, staff and peers.

180 Degree Feedback
Usually completed by the employee
and their line manager.

Staff Satisfaction
Ideal for staff surveys, company-wide
employee satisfaction. Anonymous.

Training Feedback Forms
No more happy sheets. Completely automated with detailed reporting.

Training Needs Analysis
Gather training requirements with the use of this tool. Identify trends and needs.

Quick Temperature Check
Use this for a quick happy/sad or "how are we?" survey. Gain instant insights.