Let's take a look at feedback.
I've got some great models to share with you below plus some interesting visuals to help you and your teams.
We're going to be looking at a couple of feedback models, how to use feedforward and how to give feedback in the right way.
A Staple Feedback Model To Use
Let's make a start with a staple Feedback model – SBI
• Situation
• Behaviour
• Impact
I prefer to take that model one step further to include what the corrective behaviour should be and what the impact would be if taken too.
So the EXTENDED model is below.
Do you ever use this model?
What do you think of it?
What alternatives do you use?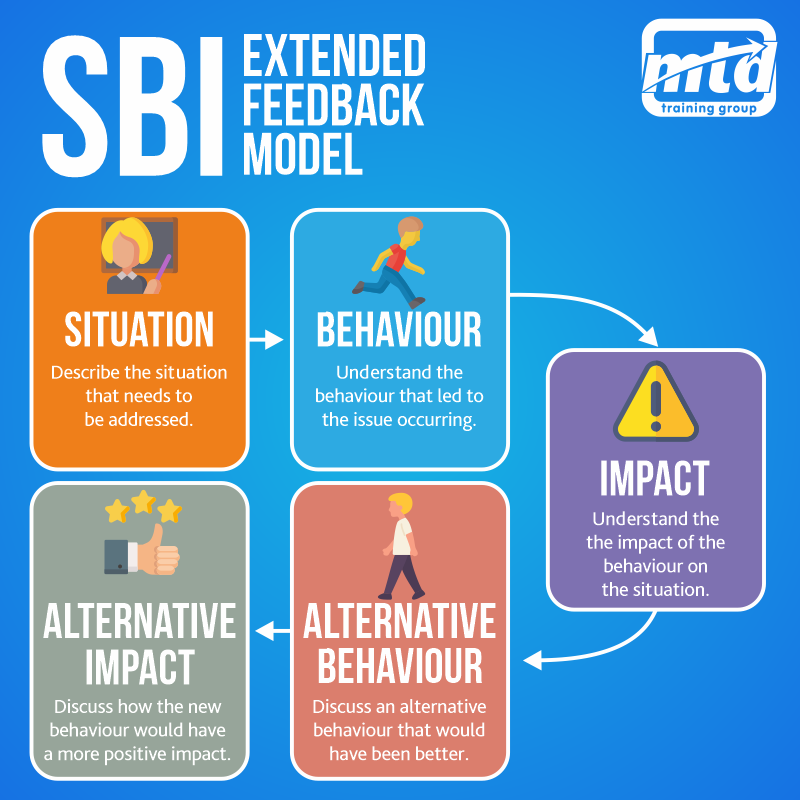 Constructive Feedback Model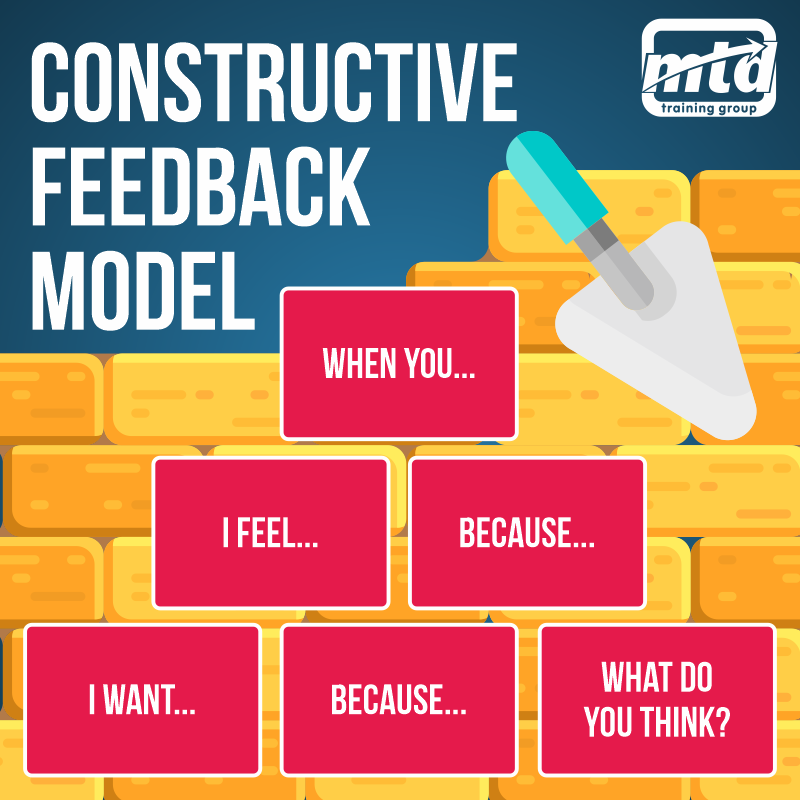 This provides you with a framework and phrases that you can use.
This is the intent for each area:
When you…
(Describe what happened or the behaviour)
I feel…
(Describe how it made you feel. You can use I feel, I felt etc)
Because…
(Give a reason why you felt that way)
I want…
(Specify what you want. This can be I want, I'd like you to, Please don't etc)
Because…
(Give the reason why you want them to do that)
What do you think?
(Verify that they understand. Can be what do you think? Okay? Etc)
Here's an example when all put together:
"When you confronted me in that team meeting I felt embarrassed and undermined because it was in front of the whole team. Please don't do that again because I lose credibility. Okay?"
There are many variations of this structure.
Principles In Giving Feedback
Here are 10 principles on how to give effective feedback.
If you give feedback in the right it can be very helpful.
Provide it in the wrong way and it can be very destructive so be careful.
This visual provides you with some main principles.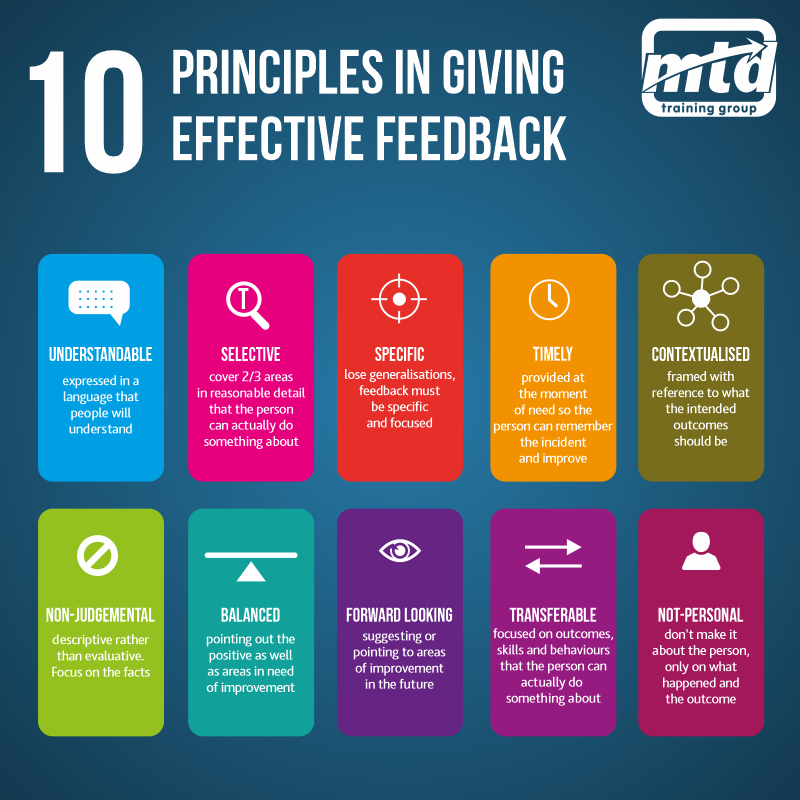 Feed Forward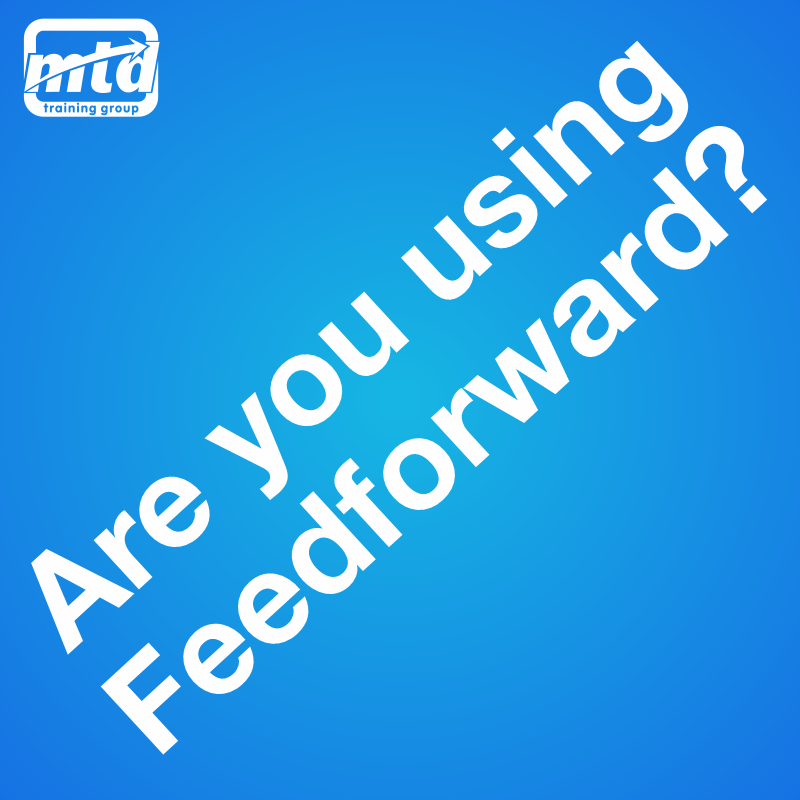 No mini session on feedback would be complete if we didn't include feedforward which Marshall Goldsmith pioneered.
He spoke of the problem with feedback: it focused on the past.
Here are his 10 reasons for trying it:
1. We can change the future, not the past
2. It is more productive to help people be right, than prove them wrong
3. Successful people like getting ideas aimed at helping them achieve their goals
4. Feedforward can come from anyone who knows the task, not just the person
5. People do not take feedforward as personally as feedback
6. Feedforward assumes that people can make positive changes in the future, whereas feedback tends to reinforce stereotyping, self-fulfilling prophecies, and feelings of failure
7. Most of us hate getting negative feedback, and we don't like to give it
8. Feedforward can cover most of the same "material" as feedback, but in a more positive manner
9. Feedforward tends to be more efficient and effective than feedback
10. Feedforward can be used with managers, peers, and team members
Peer Feedback Model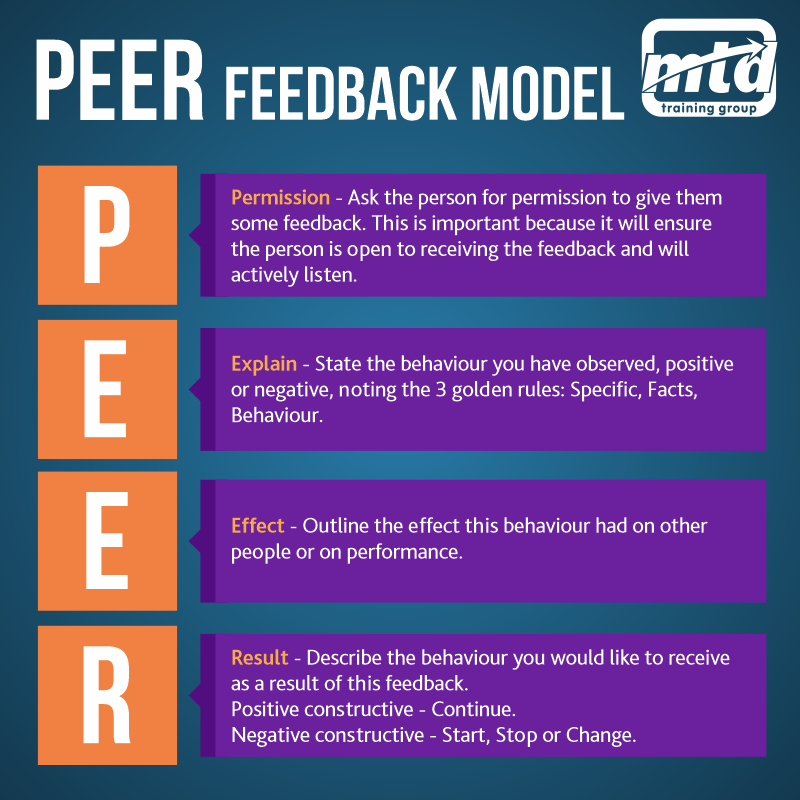 We draw our quick mini-course to a close with an alternative feedback model.
A number of you mentioned that it's good practice to ask permission to provide feedback so here's a model that achieves that.
It's called PEER.
The one stand out difference is the P.
You first ask the person for permission to give the person some feedback
The rest of the model is pretty similar to SBI – Situation, Behaviour, Impact.
I hope you've enjoyed this mini-course on feedback.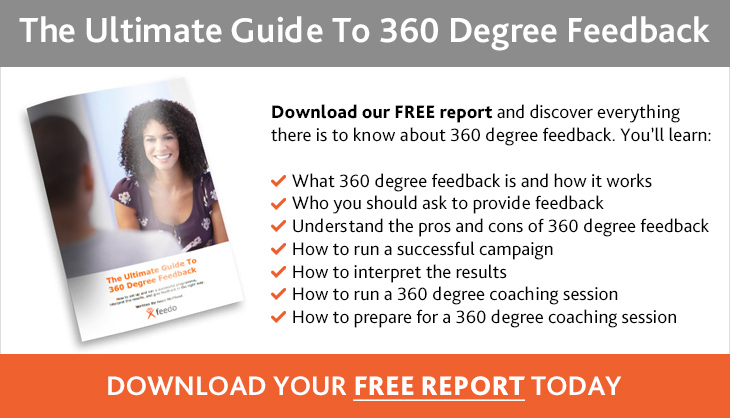 ---
Feedo is 6 tools built into 1. Its purpose? To gather feedback. Whether it be employee opinion surveys, 180 or 360 degree feedback, training needs analysis, training feedback forms or taking quick temperature checks – Feedo is your go to solution with no "per report" pricing structures.
---